Hi minna! I'm Soma. Are you looking for some animes that you should watch?
Well then, if you're looking some animes, here's are a few anime that you should watch.
1. Fairy Tail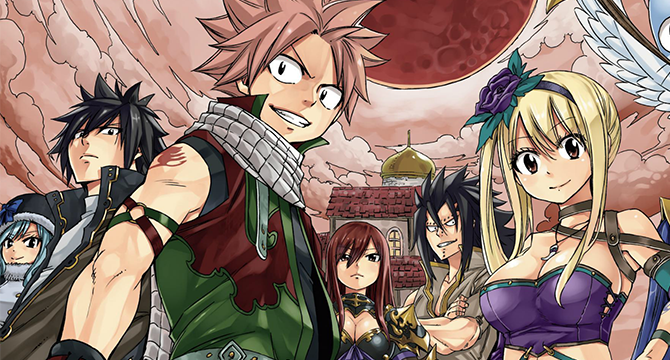 Number 1 on my list is Fairy Tail. Maybe you heard of it right? If you like some fantasy and a lil' bit of action. Fairy Tail also teaches us about the importance of friendship.
For me, the bond that me and my friends shared are unforgettable. Yes, they maybe our weakness but they are also our strength.
A while ago, I writed that maybe you have heard it, right? Try watching it from the very start and maybe you'll like it. Fairy Tail is one of my favorite anime and the first anime that I watched when I was a kid.
2. One Piece
The second is One Piece. One Piece also teaches us about the importance of friendship. I know many of you are watching this anime, but some aren't watching it. Please try to watch the first episode.
I know that some of you may be bored while thinking about how many episode there is.
But I hope that you'll watch it. I'm still currently watching One Piece. I'll give you a short description about One Piece. Monkey D. Luffy, also known as Luffy, who wants to be a pirate king and he, who wants to get the treasure called One Piece.
One Piece is a treasure that can be found in the Grand Line (I think). He also ate a Gomu Gomu fruit. That's why he's a rubberman. His confidence and strength are no joke. So try watching it. I hope you'll like it, minna!
3. Shokugeki No Soma
Last but not the least, the anime called Shokugeki No Soma. I know you've heard it right? Do you like cooking? Well then, if you liked cooking then I'm sure that you'll like this anime too. Soma, which is the main character have many ideas in his mind.
His perseverance and hardwork can also make it to the top. Shokugeki No Soma, is also about battles between who's good at cooking or not. This is interesting for a food lover like me. By the way, Shokugeki No Soma Season 3; The Second Course is ongoing. I promise you that you'll like this anime.
Have I helped you on picking a good anime? I'm sorry that there's only three. But I can assure you that these animes are good. This is based on experience, though. Thank you minna for reading this article. (2nd article). Again, this is Soma.
Credits to the image used: http://fairytail.wikia.com/wiki/Main_Page